I visited Suriyanchantra Studio again in September 2016 after knowing that the place will be closed down permanently. This time I saw a large drawing on the wall. This drawing was made using paper from bamboo tissue, pencil and black ink pen. I knew who the creator of this drawing was because I saw his works in exhibition in Bangkok last year. The artist is Noppanan Thannaree. He is a freelance artist.
Recently, I had a conversation with Noppanan about his trip to the USA. He talked about visiting several museums there. He was born in Chiang Rai Province. He got Bachelor's and Master Degrees at Silpakorn University but he had an art studio in Nakhon Prathom Province in the central part of Thailand. During the trip to the USA, he took photographs of museums and art exhibitions he visited. He showed me some of the pictures he took during the trip. He told me that he was very interested in Amedeo Modigliani, among others.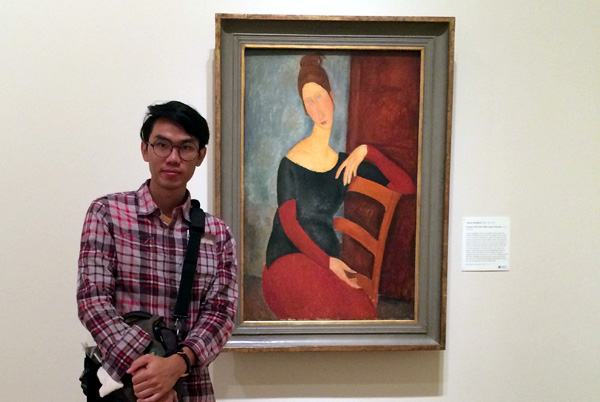 Here is an interview with Noppanan:
JY: Tell me about the artworks you have created.
NT: Life experiences from my past to present drastically impact my artistic creations. I believe that no matter how much people step ahead through their own experiences, in the end the process of making art will wonderfully act as a filter for thoughts and feelings which are deeply burrowed in their mind even though it is only the simplest thing.
All of the ordinary content in my works is based on various things such as the way of life, warmth, family, feelings from nearby surrounding landscapes. I want to express something beginning from the state of simplicity to intricacy until tranquility in the mind is found. Each stage of life is so different in the levels of roughness, complexity and emotions. It mainly depends on the inspiration in that particular time.
For me, knowledge and understanding in eastern philosophy including Buddhism are also very important that it is very difficult to deny them. Every time, some other elements from the surroundings connect to this knowledge of philosophy, automatically to my mind. One day I saw a withered lotus flower, a certain recognition of my thought about uncertainty, so I considered and try to understand the connection with my own experiences of losing a beloved person from my family or
friends. This taught me to let go of my grief with consciousness. Another part of my recognition connects to a Japanese philosophy called "Wabi Sabi" that mentions the simplicity of beauty based on uncertainty of all things and praises beauty in dim light.
All of these are sources of my imagination. If you look at all of my past and present works, you will know that tranquility covers all the concepts. Notable characteristics of my works are calmness and humility. Aesthetic in the normality of forms, content and emotion is preserved. Some content may be changed according to certain conditions. I try to improve my work gradually and avoid taking a big leap in order to retain my overall concept. Therefore, the majority of my works are natural landscape works. The differences between symbols and viewpoints can be seen according to my imagination at that
time.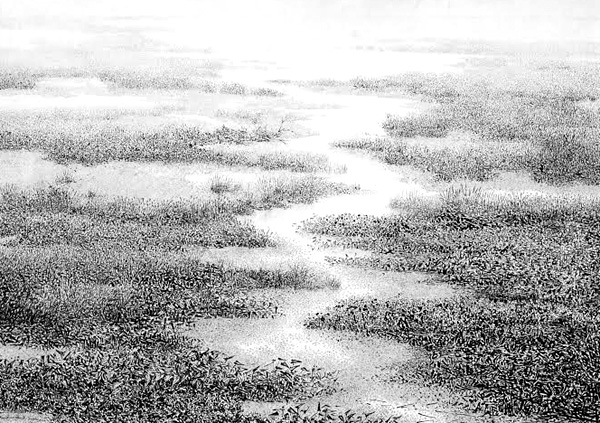 For the first reason, the majority of my works are drawings and acrylic paintings which I am accustomed to because I learned and practiced them for quite some time. The second reason is that I see the special media on a 2D plane that can contain powerful visual elements without relying on a large number of complexities in the process. Important inspiration is life and the beauty of wisdom. It is also an aesthetic for my better life as a creator as well as other people who came to see my works. Although works of art I made have only a source of thinking and elements of feelings from just me alone, I didn't intend to influence others to think or feel the same in every way as I do. Everyone can observe details and consider my works so that they can imagine and ponder about them in many ways as much as possible. This is what I feel about the beauty of art.
JY: What is the inspiration that encourages you to be a full-time professional artist?
NT: I used to think that after I graduated, I would like to continue creating works of art that I love because I don't want to lose everything I have made over the years. These include my works when I was an art student. Personally I want to develop my works further and there are plenty of useful ideas recorded in my sketchbooks but I had lttle time to use them. So I decided to continue to use these ideas. Some of my money saved from selling paintings when I was a student could help me enough to live sparingly for a while. Right now I cannot fully say that I am a professional artist. Actually, including the period of my art education, I am just working on arts for about 13 years. It is still too soon for me to call myself a professional artist.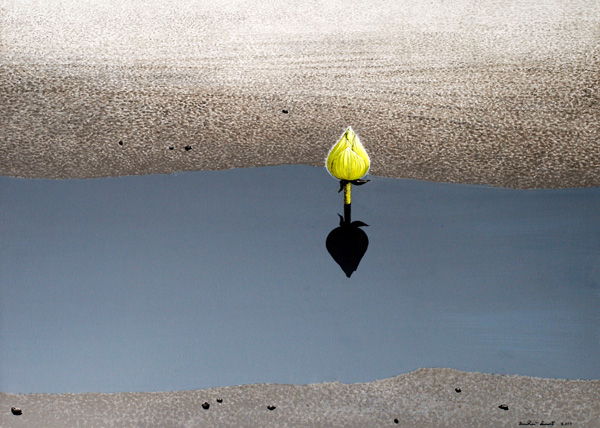 At the moment I feel it is a learning process. Beginning from the creativity to learning various systems in the art circles and in society to find out about causes and factors that can improve my works—they should be as good as the methods to keep these works in the current trend in the circle of art society. Artists like us can manage our responsibilities and listen to others who come to give advice. The most important thing that cannot be forgotten is faith. I believe in myself that I can do many things and there is always a possibility. Until now, the results of my attempts are gradually revealing. Although my accomplishments from awards and fame are still far behind other artists, I can still manage my own living expenses due to my sincerity and the continuous release of works. So far, some senior artists saw my determination through my works and they provided me support for the first solo exhibition: "The Tranquility of Mind" at the end of 2014. There will be the second solo exhibition called "Simple -Truth" early in 2017.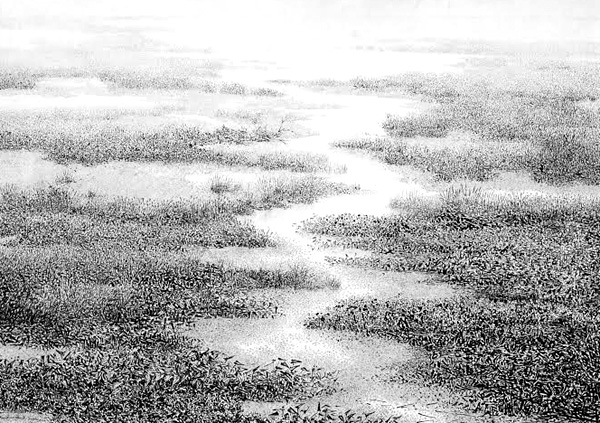 I am very happy in my work. The number of my supporters are not many but they truly love my works. Such support really helps me to continue working. If you ask me what is my inspiration, I can tell you briefly that I wish to live and do my best.
JY: I would like to know about your experiences in visiting several museums. It appeared that you traveled alone and you were so enthusiastic to make that trip.
NT: Long time ago, I made a promise to myself that I had to see some masterpieces in world museums but I don't want to wait till I am too old. If I save some money for an overseas trip from now to before I am around 29 to 30 years old, I might have better inspiration and broader vision in visiting famous museums and appreciating world-class art. This could help me to work on my artistic creations for at least 50 to 60 years, provided that I live that long. The motivations I had from reading books and the time when I studied art history in the university taught me that just looking at world-class art images from books is not enough for me. This is my simple thought. Another reason is that three years ago an American couple bought my painting. Two years later they sent me an email and informed me that my painting was a part of their family and decorated their house in San Diego, California. Coincidently, it is the same city my aunt migrated to about 15 years ago. This coincidence was very surprising and pleasing. With this possibility, the USA is definitely the first country that I chose to follow my dream of art and visited my aunt and that couple who supported me. More importantly, despite my weakness of English skills and shyness from conversing with foreign people back then, nobody there ever made fun of or scolded me about it . They are very kind and gave me great advice for improving my English. This encouraged me to continue this trip.
I had an appointment with an American friend who lived in Los Angeles to visit museums such as Hummer Museum, Getty Museum, LACMA, MOCA LA, Huntington Library, Art Collections, and Botanical Gardens in San Marino, and the Norton Simon Museum in Pasadena. It was very worthwhile to visit these museums because I could see all kinds of ancient artworks in different periods, especially at LACMA, I saw the timeline of ancient arts starting from the Mesopotamia period to contemporary arts in the present. Various dimensional aspects of social evolution in this world could be told in each type of art exhibited in the museums. In LA I was really impressed because this was my first time to see works from world class artists such as Rembrandt, Van Gogh, Pissarro, Degas, Monet, Modigliani, Rothko, Mondrian and Picasso. I traveled with just 700 Dollars. Only one week there my savings depleted quickly due to high living expenses. I tried to survive by working at a Thai food restaurant of my aunt in San Diego to save money for traveling to San Francisco and Sacramento with an invitation from a Thai friend.
In San Francisco the weather was very good. I visited the
de Young Museum where artworks of J.M.W. Tuner were exhibited at that time. The exhibition was a collection of works he created over a 16-year period. His works were clearly and interestingly grouped according to time of creation. I saw some of his paintings that weren't in art books I read. Moreover, I also came across Primitive Arts from Africa. They were very powerful and astonishing.
It was unfortunate that I could not visit MoMA San Francisco because it was closed for maintenance. I then turned my objective to visit the Walt Disney Family Museum. At that time there was the exhibition of Salvador Dali and Walt Disney to show the relationship for creativity and successes that both people used to work together. With the superb navigation skills of my friends, that day we managed to go to various important tourist attractions and then went to see the old city Sacramento as well as appreciate beautiful nature at Tahoe lake. I was very impressed and thankful for their generosity and accommodation.
Along the way I recorded my impressions by drawing and noted some new ideas. I stayed in San Francisco for two days and three more days in Sacramento. After that I came back to rest and worked for a while in San Diego, I traveled to New York with the support of a generous senior. I did not expect this and I thought I was so lucky.
In New York I saw a greater diversity in nationalities, societies and cultures. Groups of people from around the world came to live and work in this city. In my view, there is more racial diversity there than in San Francisco and Los Angeles. New York is the center of many things including art. Overall, when many countries transferred their people, economic wealth and social development to the USA, art also followed. Many world class famous artists moved in the 19th and 20th centuries. Many new approaches of art emerged and it was the beginning of the greater modern art revolution. In this 21st century, the present, contemporary art is still moving endlessly. Artists attempt to create something new all the time. We can see the enormous number of arts from many periods and from every nation. The Metropolitan Museum of Art, for example, is so large that it was impossible for me to look at everything in just two days. At MoMA New York, I saw many works of art that were mentioned in world history along with collections of the world's best contemporary arts. There were works of two Thai artists, Roek-rit Teerawanich and Gornkrit Arunanonchai.
New York is the place for people to pursue their dreams. Everyone works hard and seriously. For them, time is the most precious thing. I saw some people singing and showing their talents in the subway stations. On the streets there were many remarkable people following their life goals. I met a Thai person who was older than me and used to be in the same university as me. He left Thailand to live in New York. His name was Pairoj Pichetmethakul. He was an artist who helped homeless people in New York by selling paintings. He worked hard to earn something because he loved it and to help others. What he did impressed me and people nearby greatly.
Wherever you will go, if you have good companions, you can travel to anywhere around the world. That means you have to gain good and sincere relationships with the people who you will travel with. It is not just an exchange but the beauty of sincerity of each person will definitely appear and work naturally by itself. USA is too large for me to travel within limited time. There are many experiences that I cannot describe verbally. If you are inspired to do something, please do it right now. If you want to travel, please start your journey. It is too easy to discard your dreams.
JY: Recently, Chiang Rai Province was officially called the city of art. As a solo artist, what is your opinion of this? What do you think about the collaborations of artists such as in Chiang Rai Province or in the lower south of Thailand?
NT: Actually, solo artists are not truly alone. I was born in Chiang Rai Province. Many artists there are very generous and they often invite me to join their groups. In truth, I think Chiang Rai was potentially the city of art by itself long before the official title was given to it. However, the official title helps to get much support for art activities. In my view, collaborations between artists are always good because fighting alone is very difficult for art students and artists who are completing their works. Collaboration is the way to help to present works made by local artists to meet their goals more effectively. Another good thing is that Chiang Rai has diversity in types of art ranging from Folk Art, Traditional Thai Art, Semi-traditional Thai Art and Contemporary Art. These arts are very interesting and should be supported.
JY: What is your advice for the new generation of Thai artist?
NT: One necessary thing for working on art is inspiration. To gain an inspiration, sometimes you should learn something that is not related to art or read some books you are interested in and you may want to travel to other places. More importantly, you should be passionate in what you do and have discipline in yourself. A good friend is also important and you should live your life to the fullest but do not forget to take care of your health.
To realize the essences of art requires a lifetime to measure. I personally think that short term successes according to the curriculum (5-10 years) or awards from art contests are insufficient because awards with high value might not be placed on the big stage or given by the society. It is just a little smile from someone who sees true value and beauty in our works. I also believe that success in working on art begins with ourselves. True inspiration is within ourselves. Do not stop your dreaming and do something now.
Art is not so hard to understand. Do not look at the art just as beautiful decorative items. We should look at the whole creative process before the art works are made and ask ourselves some questions. How an object and art can be combined? What are the artists thinking? How to do it?
How much sincerity do artists have to create their works? How much do the works respond to you? These questions help you to broaden your viewpoint about art. Although people have their own preferences, different viewpoints are encouraged and people will be ready to learn and have fun with other kinds of art they have never seen before.
If your vision for appreciating beauty of art is better developed, you will see that arts appear almost everywhere. Art is not limited to just an art object, it will be a part of your life. You will choose to spend your life happily. You will see beauty in many places you used to overlook. First you have to see the beauty in yourself and then in others in the form of kindness. Even the creativity of people who try to survive is regarded as an interesting beauty. We can see that the extent of touching beauty is wider than the state of an art object. Art can be placed where we never expected. Actually, art is already in the center of your heart. It is not important that you are the artist or not if you know this concept. No matter if the origin of the actual art is so cruel, there are always the ways to express art beautifully. I think it is the miracle of art.